The 2021 Ford F-150 pickup truck is subject to eight different recalls, but one recall in particular warns drivers that they immediately stop driving their vehicles.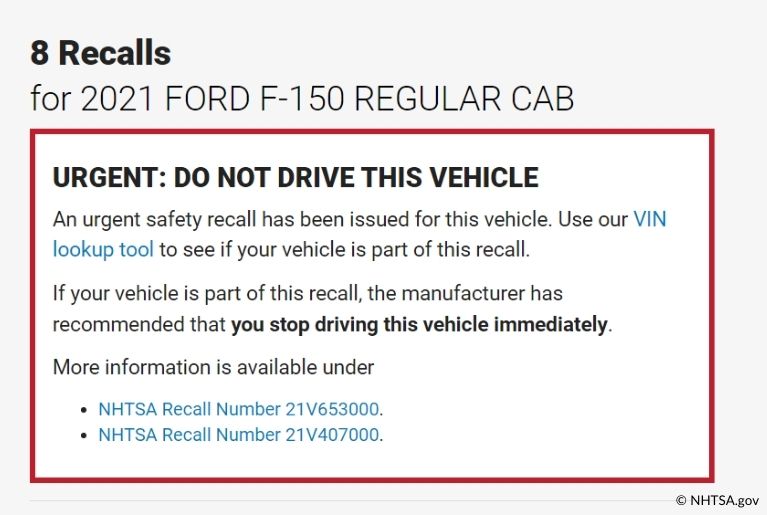 This particular recall affects only 223 vehicles, but the safety problem is particularly hazardous. According to documents issued to Ford dealers, the steering may lock in affected vehicles, causing a complete loss of steering control. Documents attribute the problem to internal components of the steering gear being damaged during assembly.
As a result, drivers could have difficulty steering or be able to steer the wheel at all. Owners were instructed to not drive their vehicles until the repair is complete. Drivers of 2021 Ford F-150 trucks were provided recall notices, which instructed them to contact their Ford dealer and arrange for the truck to be towed to the dealership.
A quick look at the vehicle page on the National Highway Traffic Safety Administration revealed that these Ford F-150 trucks should also not be driven if they are included in a recall regarding front seatbelts. The recall in question affects 16,430 Ford F-150 Super Cab trucks.
According to the recall, the front seatbelt webbing may not have been properly routed through the anchor. As a result, occupants may not be properly restrained during a crash. Ford documents submitted to federal regulators state that if the driver-side seatbelt fails inspection, the Ford F-150 truck should not be driven until the repair is done.
The remaining six recalls, issued any time between February 2021 and March 2022, include the following, in chronological order:
Windshield recall: Units affected: 79,017. Affected vehicles: 2021 Ford F-150, and 2020–2021 Ford F-250, F-350, F-450 and F-550 Super Duty. Problem: Windshields may detach in a crash due to improper bonding to the vehicle.
Driveshaft recall: Units affected: 4,436. Affected vehicles: 2021 Ford F-150. Problem: The two-piece driveshaft may separate because of improper assembly, leading to a sudden loss of drive power.
Electronic brake booster recall: Units affected: 56. Affected vehicles: 2021 Ford F-150. Problem: Electronic brake booster may leak brake fluid into the electronic control unit, causing reduced braking performance.
Airbag recall: Units: 777. Affected vehicles: 2021 Ford F-150, Expedition and Lincoln Navigator, 2022 Ford Super Duty F-250 and F-350. Problem: The side impact air bags may fail to deploy in a crash because the front-door side impact pressure sensor modules may have been damaged during supplier assembly.
Aluminum driveshaft: Units: 184,698. Affected vehicles: 2021–2022 Ford F-150 vehicles. Aluminum driveshafts could break and drop to the ground because the underbody insulators may loosen and fracture them.
Windshield wiper recall: Units" 157,306. Affected vehicles: 2021 Ford F-150 vehicles. Problems: The wipers may fail when the windshield wiper motor becomes inoperative.
To check if your Ford F-150 truck has a recall, go to nhtsa.gov/recalls and type in your VIN number. If you have an active recall, contact your local Ford dealer and request a repair to be performed. Repairs under recalls should be free of charge.
Source: NHTSA.gov
---

Knight Law Group is an automotive lemon law firm that exclusively practices in California. If you are a California resident who purchased or leased a defective vehicle from a licensed dealership in California, we may be able to help you get rid of your potential lemon and recover significant cash compensation. Model year restrictions apply: 2015–Present vehicle models only.
However, we cannot help those who reside outside of California or purchased their vehicle outside of California unless they are active duty members of the Armed Forces, nor will we be able to refer those to a lemon law firm in their states. To learn more about the California Lemon Law and your legal rights, visit our California Lemon Law Guide for more information.