Fiat Chrysler, now Stellantis, issued a recall of 248,342 Ram 2500 and 3500 trucks after receiving 16 reports of engine fires caused by transmission fluid leaks.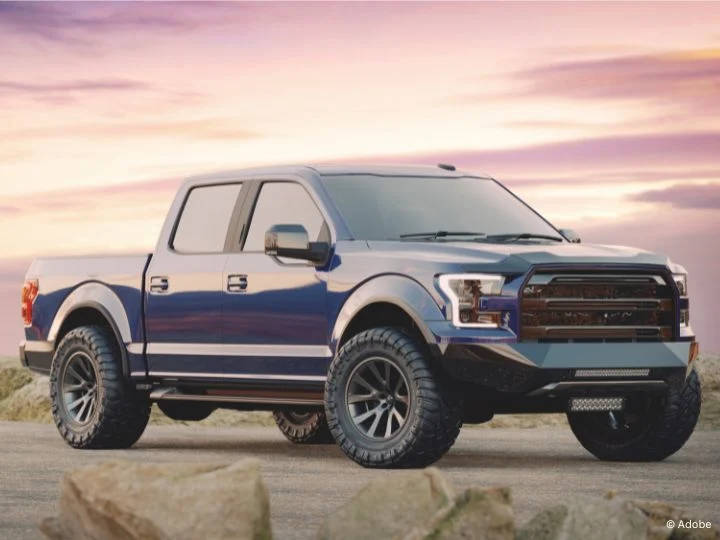 The engine fire recall affects 2020–2023 Ram 2500 and 2020–2022 Ram 3500 pickup trucks with Cummins 6.7L Turbo Diesel engines and 68RFE transmissions. The recall also includes more than 17,000 Ram trucks in Canada.
Pressure and heat can build up inside these six-speed automatic transmissions, causing transmission fluid to leak from the dipstick tube. When the transmission fluid leaks onto hot ignition sources in the engine compartments, engine fires can occur. The engine fires can damage the trucks and potentially injure drivers and passengers.
Ram truck drivers may notice a Malfunction Indicator Lamp on the instrument cluster before the truck experiences an engine fire.
Fiat Chrysler Investigates Ram 2500, Ram 3500 Truck Fires
In June, Fiat Chrysler opened an internal investigation into 2020–2023 Ram 2500 and 3500 pickup trucks due to a trend of engine compartment fires. Fiat Chrysler analyzed fire patterns, witness statements and vehicle histories to confirm the trend.
In September and November, Fiat Chrysler analyzed the six-speed transmissions returned from the field. As of November 2, Fiat Chrysler was aware of 16 field reports, 16 warranty claims and one minor injury related to the Ram truck engine fires.
Using field data and engineering change records, Fiat Chrysler determined that the faulty Ram trucks were built between September 4, 2019 (when production of trucks with 68RFE transmissions began) and November 4, 2022. Similar Ram trucks without the six-speed transmissions or built outside of this period are not included in the engine fire recall.
---
Ram 2500, 3500 Engine Fire Complaints
Drivers of Ram 2500 and Ram 3500 diesel trucks with these six-speed transmissions reported their vehicle fires to the National Highway Traffic Safety Administration.
2020 Ram 3500 Engulfed In Flame, April 2021
"Truck caught on fire in engine compartment. I had just gotten on the freeway and reached 70MPH when I could see smoke coming from the engine. Pulled over and it quickly became engulfed in flames."
2021 Ram 2500 Damaged By Engine Fire, August 2021
"At a stop light after 10 min of normal driving on country and city roads my truck started smoking from front passenger wheel well. Smoke intensified and quickly turned black. Immediately pulled over and found flames burning through front passenger wheel liner and from around passenger side battery and intake filter. Fire was put out with fire extinguisher and engine bay sprayed down by fire truck when they arrived on scene. Fire melted through battery case leaking battery acid, parts of the intake filter housing, all surrounding electrical wiring and completely through wheel well. Was building in intensity until put out with fire extinguisher. Truck was purchased in June 2021 and had 0 active recalls. Truck was completely stock."
2021 Ram 3500 Totaled By Engine Fire, April 2022
"Our vehicle was involved in a total loss fire from the engine compartment while driving. We were driving the unit and noticed smoke, when we were merging to pull off the road flames started coming up and we immediately exited the vehicle and had to run, because it started popping. We were lucky to escape unharmed physically, but the situation could have been much worse. There were no indications or lights warning of engine failure or fire. This occurred on September 2, 2021. At this point in time, there were no recalls on the vehicle. When we contacted Stellantis to report the incident, they concluded their investigation they denied responsibility. A few months after the fact, we received notice of the recall. To date, we have not been reimbursed for the loss of the vehicle, our personal belongings in the vehicle, and the loss of income from no longer having the vehicle. Our insurance company, Stellantis, etc. all inspected the unit related to the claim and confirmed the fire began in the engine compartment."
---
Ram Transmission Fluid Leak Recall Remedy
To date, Fiat Chrysler does not have a repair for the six-speed automatic transmissions installed in the affected Ram 2500 and Ram 3500 pickup trucks. The automaker states that the repair is currently under development.
According to the Safety Recall Report, Fiat Chrysler stated that it has a policy of reimbursing owners who paid out of pocket for repairs to a problem that is later subject to a recall. In addition, Fiat Chrysler states that it will "request that customers send the original receipt and/or other adequate proof of payment to the company for confirmation of the expense."
Fiat Chrysler will send transmission fluid leak recall notices starting December 30, 2022.
---
Knight Law Group is an automotive lemon law firm that exclusively practices in California. If you are a California resident who purchased or leased a defective vehicle from a licensed dealership in California, we may be able to help you get rid of your potential lemon and recover significant cash compensation. Model year restrictions apply: 2016–Present vehicle models only.
However, we cannot help those who reside outside of California or purchased their vehicle outside of California unless they are active duty members of the Armed Forces, nor will we be able to refer those to a lemon law firm in their states. To learn more about the California Lemon Law and your legal rights, visit our California Lemon Law Guide for more information.