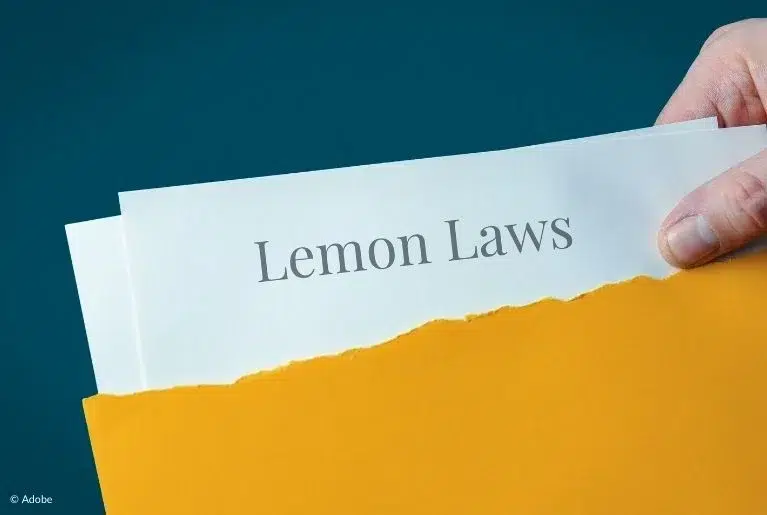 Many people mistakenly believe that they can pursue their lemon law case alone. Sometimes they think it's enough to go through arbitration against a manufacturer, when in reality, the manufacturer has an advantage in that specific process. The scales are tipped because consumers may be told they don't need legal representation, yet manufacturers often have a team of attorneys on their side. Consumers deserve to have legal representation during any California lemon law proceedings.
However, choosing the wrong lemon law attorney can result in not getting the outcome you deserve. Many lemon law attorneys lack a certain passion for consumer rights. As a result, they simply opt to get their consumers small, easily obtainable settlements – often equaling a few thousand dollars – while letting the consumer keep their defective vehicles. This requires less work on the part of attorneys and allows manufacturers to avoid the deserved consequence of buying back the defective vehicles they released to the public. As a result, the wrong lemon law attorney can cost you thousands of dollars in lost settlement money.
The right lemon law attorney can help you navigate the lemon law process, get rid of your faulty vehicle and recover as much as three times the vehicle's cost. However, finding the right lemon law attorney can be hard! Here are the top 5 tips to finding an experienced, skilled lemon law attorney who will fight for your consumer rights and get you the outcome you deserve.
---
1. Know Their Legal Practice Areas
Many law firms will have several practice areas, which will sometimes include lemon law. However, it's not enough to know that the firm practices California Lemon Law. Law firms will advertise the practice areas they engage in on their websites. However, the information available about each practice area will reveal – lemon law included – will reveal how much they focus on a certain practice.
Law firms with substantial knowledge about the California Lemon Law should be able to demonstrate their knowledge. What kind of information is available on this state's lemon law? Do they discuss their past successes or say what automakers they take cases against? A reputable lemon law firm should want their consumers to be fully informed of their legal rights.
Often, law firms will advertise settlements and rewards related to a practice area. However, not all practice areas get the same rewards! Lemon law, personal injury, or other types of law have different rules surrounding what kinds of rewards a plaintiff could get. A firm that lists a settlement for personal injury on an attorney advertisement for lemon law is being misleading.
Compare the lemon law settlement amounts advertised by each law firm you research. Experienced, skilled attorneys may be able to get you a higher settlement amount for your case. Reputable lemon law attorneys will have a higher likelihood of success because they know what legal tactics automakers used against consumers and defend consumers accordingly.
2. Look At Previous Results And Reviews
Law firms will often advertise past settlement results on their websites, many of which are the result of having gone to trial. However, you must keep in mind that law firms often solely advertise their largest victories. To learn how the firm may serve clients on a day-to-day basis, read consumer reviews of the firms.
Consumer reviews will provide some insight into the law firm's practice from the clients' point of view. These reviews may reveal how the law firm treats the client, what type of cases they take on, and whether the law firm is willing to go to trial, if necessary.
Here is an example of a review that reveals important information about the law firm itself (edited grammar for clarity):
I would definitely recommend this law firm for your lemon law cases. I would like to thank Clemente for always keeping me up to date with my case, no matter how little or big changes that here made on my case.
Yes, some cases may vary, depending on the manufacturer, on how fast they respond to them, but the wait time is worth it. At the end, they will not let you settle for chunk change; they get you the max money they can. Thank you Knight Law Group for getting me $98K with General Motors.
–Cristian S., Santa Ana, California (January 28, 2021)
As shown, results and reviews about the firm should help you understand a firm's reputation. While some lemon law firms resort to quick, small settlements, other lemon law firms will put a greater effort into protecting your consumer rights. Ultimately, you need to be able to trust that the lemon law attorney has your best interests at heart. This is why due diligence is important.
3. Know Their Vehicle Expertise
Many lemon law firms will advertise the manufacturers against which they take cases. Some lemon law firms have dedicated pages for specific manufacturers. These pages may list car models whose cases the firm often takes, or examples of defects that many models from this manufacturer may face.
Alternatively, lemon law firms may have pages, blogs or social media posts dedicated to newly appearing defects affecting specific car models. If your car model is affected by a class action lawsuit alleging your model to be potentially defective, many law firms may help you opt out and pursue an individual lemon law claim.
When it comes to vehicle expertise, review their past successes. How did they handle the cases of consumers who opted out of class action lawsuits? Did they deliver the deserved outcomes that could arise from individual lemon law claims? Don't just review past settlements; research the firm and see how they understand their own cases.
In some cases, automakers are found to have actively concealed safety problems and made to settle with individual consumers for amounts in the millions.
4. Ask If They Offer Free Consultations
Law firms that take on California lemon law cases often allow consumers to have a free consultation on their situation. During these consultations, the consumers may talk about recurring problems they notice in their vehicles and ask any questions they have about their legal rights.
Lemon law firms should not require you to pay for these consultations. Lemon law firms should not require you to pay up-front, out-of-pocket costs at all. If a lemon law attorney expects you to pay upfront costs, you should find legal representation somewhere else. Lemon law attorneys often operate on a contingency basis, which means that the attorney takes a certain percentage of your recovery if your case is successful. In other words, the attorneys only get paid if you win the case.
5. Ask If The Attorney Can Serve You Where You Live
The first thing you must check is if the attorney practices lemon law in the state where you live. Some lemon law firms work nationally and take on cases specific to federal lemon law, while others work locally and primarily focus on state lemon law. To reap the full benefits of the protections afforded to you, you want to hire an attorney that knows the ins-and-outs of the California Lemon Law.
You must check where the firm is located and what areas they serve. On their websites, lemon law firms will advertise which areas they serve, whether that be on a city level or regional level. Before you agree to have an attorney represent you, you should ask if they are willing to travel to your area, are knowledgeable about the courts in your area, or are otherwise willing to serve you where you live. You shouldn't lose out on representation just because you live in a more remote location.
---
Lemon Law Help by Knight Law Group is an automotive lemon law firm that exclusively practices in California. If you are a California resident who purchased or leased a defective vehicle from a licensed dealership in California, we may be able to help you get rid of your potential lemon and recover significant cash compensation. Model year restrictions apply: 2016–Present vehicle models only. However, we cannot help those who reside outside of California or purchased their vehicle outside of California unless they are active duty members of the Armed Forces, nor will we be able to refer those to a lemon law firm in their states. To learn more about the California Lemon Law and your legal rights, visit our guides on the California Lemon Law and Used Car Lemon Law for more information.