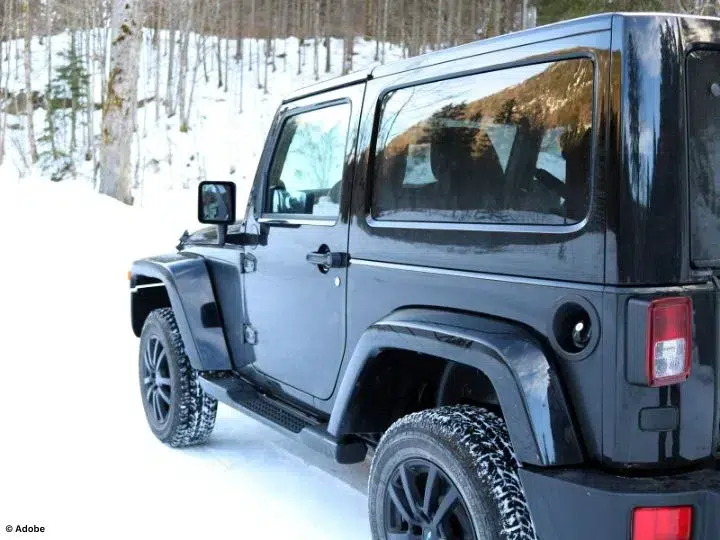 A Jeep clutch class action lawsuit alleges that Jeep SUVs with manual transmissions are susceptible to fires due to clutch defects. Chrysler claims two previous recalls effectively fixed the defects, but the plaintiffs allege that the proposed fixes "effectively neuter" the Jeeps.
The Jeep clutch lawsuit includes 2018–2021 Jeep Wrangler (2-door), 2018–2021 Jeep Wrangler Unlimited (4 door) and 2020–2021 Jeep Gladiator SUVs with manual transmissions. These Jeeps also have 3.6L V6 engines, which were advertised as having "285 horsepower and 260 lb-ft of torque."
Jeep Manual Transmission Clutch Problem
According to the lawsuit, the clutch friction play can slip on the flywheel, creating high temperatures that cause fires. Chrysler filed a motion to dismiss the lawsuit on the basis that the two recalls fixed the issue. According to both recalls, the clutch pressure plates may overheat and fracture, breaking the transmission case and allowing debris to reach ignition sources. Fractured pressure plates could also cause loss of propulsion and result in debris falling on the road. Drivers may smell burnt clutches or notice changes in how the clutch pedal moves.
---
Jeep Clutch Manual Transmission Complaints
Some Jeep SUV owners have submitted complaints to the National Highway Traffic Safety Administration. These complains are accessible on NHTSA's site, and have been edited for grammar and clarity.
"This vehicle has undergone two recalls for an issue involving the clutch and other parts in the same vicinity blowing apart, shooting out like a grenade, and causing catastrophic damage to the transmission, hoses, and whatever else might be in the way of the projectiles. This happened to me after I bought the car used, with very low mileage, and still under powertrain warranty. The dealer balked at first and tried to blame my tires until I mentioned the recalls. They then fixed it under the powertrain warranty. No less than 2 weeks later, the same exact issue occurred yet again! (I had been nowhere near the clutch pedal and had not shifted for quite some time during either occurrence) I pulled over immediately and shut down because I knew what had happened. It felt exactly the same. Now the dealership is insisting this isn't the case and that I get my auto insurance carrier involved. Simply because it projected a different way!!!!! I have been driving a manual transmission for almost 30 years now and have NEVER had any kind of issues in the past with any vehicles I have driven. This is ridiculous! Does someone have to lose their life before anything real is done?????"
– 2018 Jeep Wrangler, January 2023
"Clutch flywheel/transmission issue. Second time in 3 months. The other night when it happened, I was on a back road and had been in 4th gear for at least 10 minutes, and going approx. 38 MPH. It was cold out. The vehicle decided to only rev as if in neutral when I depressed the gas pedal. I immediately pulled over and saw sparks and smoke again before quickly shutting her down. This time I not only felt that same thud, but also what felt like a cable and a spring break loose. The clutch was at half-mast with some resistance left to it."
– 2018 Jeep Wrangler, December 2022
"There are now 2 recalls on manual transmission clutch failures. […] Both are for catastrophic pressure plate failures for clutch slipping, overheating and fragmenting. What is going to happen to all these pressure plates when the clutch disk wears down over time, as is normal for a manual transmission, and starts slipping then? It will most likely overheat these pressure plates and cause failure then. If these pressure plates are defective they need to be completely replaced and not just reroute electrical lines and reprogram the software to limit engine torque. Fix the issue!"
– 2020 Jeep Gladiator, February 2021
---
Jeep Manual Transmission Clutch Recalls
The first recall, issued March 2020, covered nearly 37,000 model year 2018–2020 Jeep Wrangler and 2020 Jeep Gladiator with manual transmissions. Dealers were instructed to reroute a wire harness, inspect the clutch system and replace components as needed.
The second recall, issued January 2021, covered more than 47,200 model year 2018–2021 Jeep Wrangler and 2020–2021 Jeep Gladiator with manual transmissions. This time, dealers were instructed to add software that reduced engine torque capability whenever clutch assembly temperatures rose high enough to damage the inner pressure plate.
The lawsuit alleges that this software remedy "effectively neuter[s]" the Jeeps, which were advertised to have 260 lb-ft of torque. Though Chrysler has filed a motion to dismiss, the judge has granted the plaintiffs another chance at their claims.
Source: CarComplaints.com, NHTSA.gov
---
Lemon Law Help by Knight Law Group is an automotive lemon law firm that exclusively practices in California. If you are a California resident who purchased or leased a defective vehicle from a licensed dealership in California, we may be able to help you get rid of your potential lemon and recover significant cash compensation. Model year restrictions apply: 2016–Present vehicle models only. However, we cannot help those who reside outside of California or purchased their vehicle outside of California unless they are active duty members of the Armed Forces, nor will we be able to refer those to a lemon law firm in their states. To learn more about the California Lemon Law and your legal rights, visit our California Lemon Law Guide for more information.