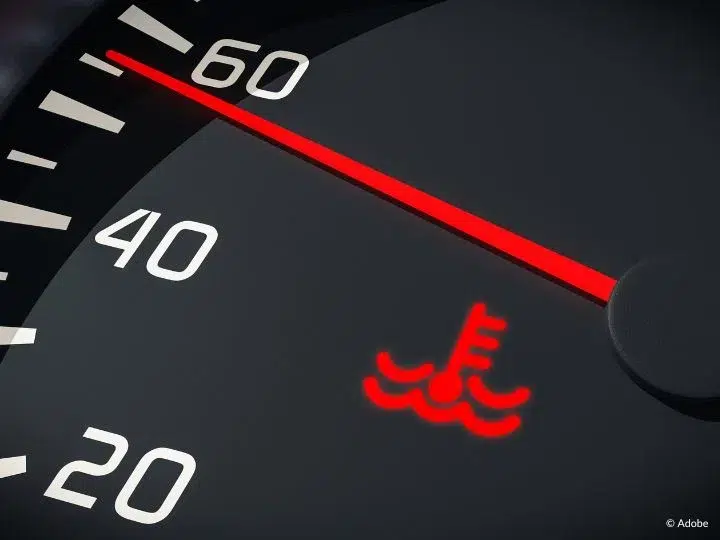 Jeep Compass SUVs are displaying "high coolant temperature" or "coolant temperature too high" dashboard warnings before immediately shutting down.
High coolant temperature and engine shutdown problems have prompted a federal investigation into 2019–2020 Jeep Compass SUVs. NHTSA estimates that nearly 229,000 Jeep Compass SUVs will be covered by the investigation.
In most incidents, the high coolant temperature warning messages either would self-correct spontaneously or would correct after the vehicle shuts down and restarts again.
One Jeep Compass owner alleged that the vehicle would not restart immediately after shutting down and had to be towed.
---
Jeep Compass High Coolant Temperature Complaints
The National Highway Traffic Safety Administration has received 15 complaints of Jeep Compass SUVs experiencing high coolant temperature warnings. Some of those complaints are featured below.
2020 Jeep Compass, Dec 7, 2022
"The contact owns a 2020 Jeep Compass. The contact stated while in stop and go traffic, the temperature gauge rose into the high temperature range. The contact stated that the vehicle lost motive power; however, after several minutes, the vehicle started and operated normally. The vehicle was not diagnosed. The manufacturer was not contacted or notified of the failure. The failure mileage was 74,685."
2020 Jeep Compass, September 17, 2022
"The vehicle has 44k miles on it. Upon starting the car in my driveway today, it would not start and was throwing an ECM error code along with 'engine coolant temperature too hot.' The vehicle fluid levels are perfect but it just will not start. I called the dealership and was advised they've seen lots of these issues but have no clue how to fix the problem. The car will automatically shut down if being driven and this occurs (we read other blogs on this issue) and it is truly a hazard."
2020 Jeep Compass, September 15, 2022
"Over the past month my car has had issues with my car not starting up and killing out my battery. Today I had was driving and my vehicle shut off at a stop light and wouldn't turn back on. After getting the battery powered up, I went to work and turned off my car and now it won't start again. When trying to start my car, it will tell me that my coolant temperature is high, and then it will tell me the coolant temperature is too low, and it will flash and tell me EBS system. The car has even stopped suddenly as I slowed down to make a right hand turn, almost causing me to get into multiple accidents. The auto start/stop light is always on. I have already been through 2 batteries in this car so far and I am so frustrated over this issue."
2019 Jeep Compass, June 28, 2022
"Since I purchased my Jeep Compass Trailhawk in February 2019, sporadically a message appears on the dashboard display about 'High Coolant Temperature' and immediately sends the vehicle to shut down and after a couple of seconds the error disappears and the temperature returns to normal. I must clarify that at no time does the vehicle overheat."
2019 Jeep Compass, February 14, 2022
"Engine stops during operation on the road. Occurs sporadically. Engine light illuminates, 'High Coolant Temperature.' Not able to restart vehicle and must wait a few minutes before starting. The illuminated light gauge turns off. Coolant levels in reservoir normal. Has occurred 12-15 times since ownership. No illuminated lights to take to mechanic."
---
Jeep Compass SUV Investigation
One Jeep owner said that the high coolant temperature problem occurred sporadically and without warning, with incidents causing 10 to 15 trips to mechanics. Attempted solutions included replacing the control module, software updates and long, unsuccessful driving tests.
NHTSA opened a preliminary evaluation to assess the frequency and potential safety consequences of these high coolant temperature warning messages, followed by immediate engine shutdowns.
Source: CarComplaints.com, NHTSA.gov
---
Knight Law Group is an automotive lemon law firm that exclusively practices in California. If you are a California resident who purchased or leased a defective vehicle from a licensed dealership in California, we may be able to help you get rid of your potential lemon and recover significant cash compensation. Model year restrictions apply: 2016–Present vehicle models only.
However, we cannot help those who reside outside of California or purchased their vehicle outside of California unless they are active duty members of the Armed Forces, nor will we be able to refer those to a lemon law firm in their states. To learn more about the California Lemon Law and your legal rights, visit our California Lemon Law Guide for more information.