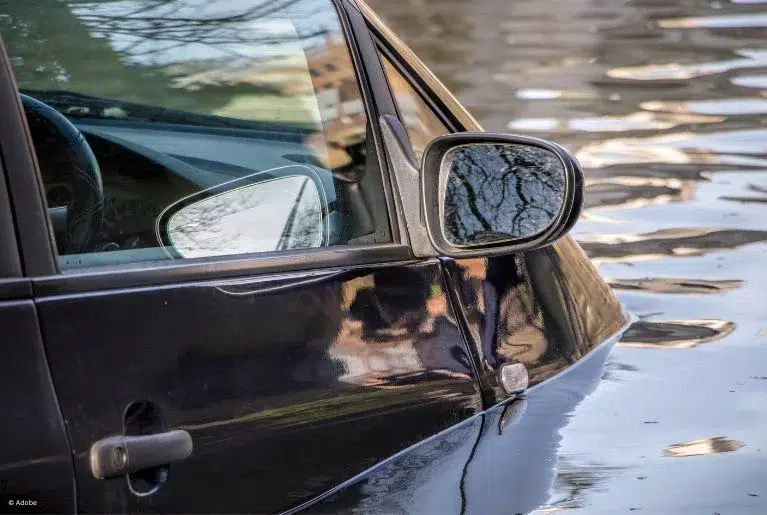 As many as 358,000 vehicles were damaged during Hurricane Ian. One might think that common sense would prevail, but according to CARFAX, many of these flood-damaged vehicles may end up on the used car market, where 399,000 flooded cars are already on the road nationwide.
Floodwater can damage a vehicle's electrical and mechanical components, cause safety problems and contaminate the vehicle with mold and bacteria. Damage from floodwaters can resurface months later, and sellers may attempt to title-wash these vehicles to get them back on the market.
Title-Washing: Can Lemon Law Cars Be Resold
Top #7 Telltale Signs Of Water Damage
If you are in the market for a used vehicle, check for these signs of water damage, according to CARFAX:
1. A musty odor in the interior, or a strong air-freshener (used to cover up odors)
2. Loose, stained or mismatched upholstery or carpeting
3. Damp carpets
4. Rust around the doors, under the dashboard, on the pedals, or inside the hood and trunk latches
5. Mud or silt under the seats or in the glove compartment
6. Brittle wires under the dashboard
7. Fog or moisture beads in the interior lights, exterior lights or instrument panel
How Floodwaters Destroy Vehicles
The damage from floodwaters will not always be apparent. Floodwater damages vital components of the vehicle, endangering both the health and safety of anyone who operates it.
Specifically, floodwater causes the resulting vehicle problems, according to CARFAX:
• Mechanical damage: corrosion of metal parts, failures of exhaust system, engines and transmissions
• Electrical damage: short circuiting, malfunctioning computers and nonfunctional lights and dashboards
• Safety systems: warped or rusted brakes and motors, failures in airbag and seatbelt systems, and malfunctioning Anti-Lock Braking System
• Health problems: Mold in seats and other fabric, bacteria circulating through ventilation systems and interior contamination
Flood Vehicles, Title-Washing and Crossing State Lines
"The bottom line on these flood-damaged vehicles is that they are literally rotting from the inside out," Emilie Voss, spokesperson for CARFAX, told CNBC News. "They might look fine cosmetically, but there can be mechanical, electrical, safety and health issues that will show up down the road."
Texas and Florida are the top two states affected by hurricanes, and according to CARFAX, they lead the nation in the number of flood-damaged cars on the road, at 67,000 and 33,500 vehicles respectively. However, many flood-damaged cars are title-washed and transferred across state lines, meaning that many who do not live in commonly flooded states may end up with a water-damaged vehicle. California ranks #8 in the nation when it comes to the number of flood-damaged cars.
How to Avoid Flood Damaged Cars
Not all used car sellers are reputable, and not all vehicles are titled properly. However, there are ways to avoid flood-damaged cars that end up on the used car market. Kelley Blue Book and CARFAX offer the following tips to avoid purchasing a car with significant water damage:
1. Find a reputable seller. CARFAX recommends visiting well-established car dealerships that are not in the business of short-term profit. Trusted dealerships are willing to offer vehicle reports upon request. Speaking of which…
2. Get a vehicle history report. Report services include CARFAX, Experian's AutoCheck, Department of Justice's National Motor Vehicle Title Information System and the National Insurance Crime Bureau's VINCheck service.
3. Inspect the vehicle's interior. Do a quick smell test, as mildew and mold smells are a dead giveaway. If there's too much freshener in the vehicle, then that freshener may be used to cover up the very smells you want to detect. In addition, check for moisture, water stains, rust or corrosion, and mismatched upholstery.
4. Inspect the exterior, engine bay, and beneath the car. Waterlogged headlights, visible waterlines, dirt, debris and corrosion are telltale signs of water damage, particularly from floods. Caked-on debris, premature rusting and metal flaking are red flags, especially on newer cars.
5. Take a test drive. Test drives are common sense for anyone purchasing a vehicle. Listen for any strange noises and test all vehicle accessories, such as turn signals, windshield wipers, headlights and audio systems.
6. Get an inspection from a trusted mechanic. There's only so many red flags that you can detect independently. Get a trusted mechanic to inspect the vehicle for a small fee. The price will be worth avoiding a flood damaged vehicle. Better to pay an upfront cost for safety than to pay for a vehicle that is unsafe to drive.
Sources: CARFAX, CNBC News, Kelley Blue Book
---
Knight Law Group is an automotive lemon law firm that exclusively practices in California. If you are a California resident who purchased or leased a defective vehicle from a licensed dealership in California, we may be able to help you get rid of your potential lemon and recover significant cash compensation. Model year restrictions apply: 2015–Present vehicle models only.
However, we cannot help those who reside outside of California or purchased their vehicle outside of California unless they are active duty members of the Armed Forces, nor will we be able to refer those to a lemon law firm in their states. To learn more about the California Lemon Law and your legal rights, visit our California Lemon Law Guide for more information.