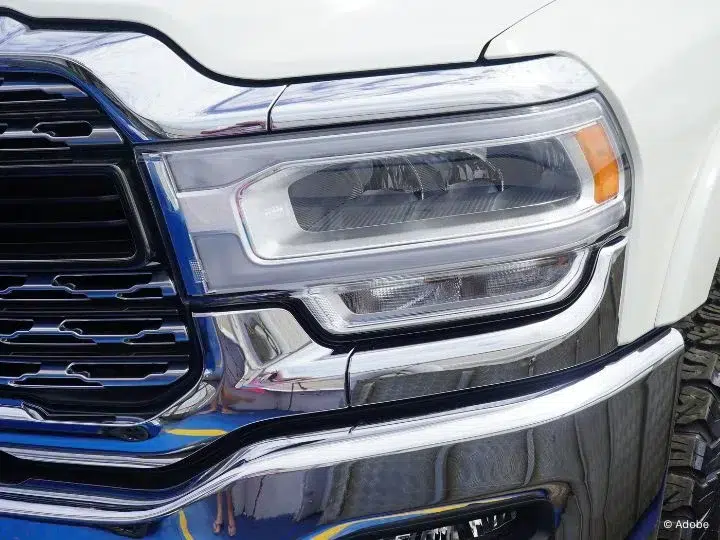 Brake failures in 2017–2018 Ram 2500 and Ram 3500 trucks are under federal investigation after the National Traffic Safety Administration received 134 reports of the potential defect.
NHTSA estimates about 390,000 Ram 2500 and Ram 3500 trucks are affected by the brake failure investigation. Ram truck owners allege that brake failures can be intermittent or permanent, and can occur at any driving speed. NHTSA states that the brake problems occur equally across the affected models.
According to several reports, replacing the anti-lock braking system modules and hydraulic control units appear to correct the braking failure problems. The ABS module and the HCU work in conjunction; the HCU controls hydraulic pressure to the individual wheel brake assemblies to manage braking forces during emergency stops.
---
Ram 2500, Ram 3500 Brake Failure Complaints
Some Ram 2500 and Ram 3500 owners report dashboard warnings related to the Anti-Lock Braking Systems and Electronic Braking Systems before brake failures occur. Some owners were told parts were on backorder, or were made to pay for repairs out of pocket. Read the complaints that truck owners submitted to NHTSA for Ram brake failure problems.
2017 Ram 2500, July 21, 2022
"I am receiving two messages: Service Electronic Braking System and Service Antilock Braking System. The cruise control and trailer braking system will not operate under this condition. I tow a 5th wheel trailer. This is a common problem on Ram trucks. The local dealer has quoted me between $1,000 and $1,600 for the repair. I have a friend who had the problem at 36,000 miles. Ram had made a change to both parts causing this problem […] Why are customers having to pay for an obvious design flaw? I was told there is no plan for a recall at this time."
2017 Ram 2500, October 25, 2022
"The ABS control module and the HCU has failed twice on this truck resulting in loss of traction control, ABS and cruise control. The unit was replaced around 42,000 miles and then failed again at roughly 60,000 miles. Ram will not replace under warranty. The failure causes the ABS and traction control light on the dash to come on and off constantly. It also shuts down cruise control. I believe it also causes excessive wear on the rear tires due to the traction control system not working properly. This is a major problem and judging by online repair forums, there are many other people experiencing the same issues."
2018 Ram 2500, December 11, 2022
"Intermittent failure of the electronic braking system. Audible Warning tone and indication 'Service Electronic Braking System' followed by 'Service Antilock Braking System' experienced intermittently. The multiple warnings automatically disabled the antilock brakes, stability control, and cruise control as well as producing annoying audible tone. This failure originally began occurring in August 2020, and was taken to the local Ram dealer in September 2020, when it was diagnosed as a defective hydraulic control unit module. After a three week lead time, the module was replaced under warranty with 12,116 miles on the vehicle and the problem disappeared. Two years later in July 2022, the same warnings began intermittently with the same disabling safety issues at 24,000 miles. On 10/19/2022, the Ram dealer diagnosed the problem as 'ABS Control Module Has Internal Short. Part Is On Backorder With No ETA.' I have repeatedly checked on the status of the part with the Ram dealer, resulting in the same 'Backorder with No ETA' response. In November 2022, I filed a formal complaint with Ram Cares. They have provided the same response 'Unplanned resource requirement resulting in supply disruption. No firm ETA to provide at this time. Working to improve.' This failure is a safety issue, not just an inconvenience and annoyance. My Ram 2500 is periodically used to haul a 10,000 lb trailer. The sudden loss of cruise control, stability control, and antilock brakes could cause and accident resulting in property damage and injury or death."
2018 Ram 3500, October 22, 2022
"ABS system/Electronic braking system failure at 5,583 miles. ABS/traction control and service electronic braking system display on dash, also audible chime with cruise control inactive. Took to dealership for diagnosis and code C0020-01 is active. Recommended replacement of HCU which is common for these vehicles. Truck is out of warranty and estimate is $1,080 for repair, which does not include the $301 I spent on diagnostics. There needs to be a recall on these Chrysler HCUs as they are a known issue and related to the braking system. Why do I see recalls on items such as malfunctioning tailgate latches but not braking systems?"
---
Ram 2500, Ram 3500 Brake Investigation Result
The Ram brake failure investigation is currently in the Preliminary Evaluation phase, during which the Office of Defects Investigation obtains information from the manufacturer, such as complaints, crashes, injuries and warranty claims. At the end of this stage, the ODI will determine whether the investigation should close or if it should proceed into an engineering analysis. Ultimately, the results of the Ram truck investigation will determine if a recall will be issued on 2017–2018 Ram 2500 and Ram 3500 trucks.
Source: CarComplaints.com, NHTSA.gov
---
Lemon Law Help by Knight Law Group is an automotive lemon law firm that exclusively practices in California. If you are a California resident who purchased or leased a defective vehicle from a licensed dealership in California, we may be able to help you get rid of your potential lemon and recover significant cash compensation. Model year restrictions apply: 2016–Present vehicle models only.
However, we cannot help those who reside outside of California or purchased their vehicle outside of California unless they are active duty members of the Armed Forces, nor will we be able to refer those to a lemon law firm in their states. To learn more about the California Lemon Law and your legal rights, visit our California Lemon Law Guide for more information.